Okay had a little bit of a scare this week. On this last Friday I was going to give my little girl a bath, get a couple more pictures and put up a post on bathing ferrets. Well that changed. I noticed when I picked her up out of her cage that she had this dark spot under her chin along her jaw line. It was lumpy an looked honestly like a piece of poo. So I pulled at it and it started to bleed. Once I got the bleeding under control I took a small look at it and had my roomie look at it too. She gave it a little squeeze to determine if it was oozing and it wasn't but there definitely was a bit of dimension to what was under the scab.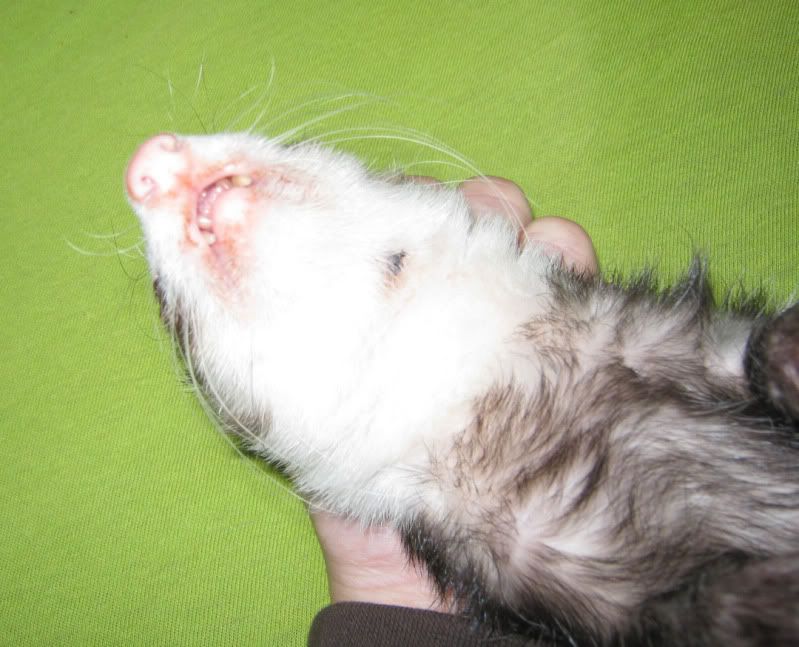 That little dark spot on her neck was much bigger before I pulled the scab off the first time.
So on monday I set up a vet appointment and went in on Tuesday with her. I love her vet. He is the best. Basically he took one look at it, pulled the scab back and said that it needed to be taken off and that he could do a smear test to start figuring out what it was. The surgery was set then for Wednesday... because while local anesthesia is great for humans it is not so good for animals.
So, even though I was slightly panicking, I knew it was necessary. If it was something more than just a cyst or a viral wart I needed to know.
Now why was I slightly panicking? The last time I brought one of my ferrets in for surgery I did not get her back alive. Mind you there were a lot of extenuating circumstances with that one and she actually was opened up but the thought was there.
So Wednesday I brought Chavi in and she had her little surgery around eleven AM and I called and found out that it wasn't that bad. It was only subcutaneous and had not spread and that it had no malignant traits to it. So I made the decision not to send it off to have it analyzed and would instead just make sure that no more 'lumps' would show up and if they did I would deal with it then.
So now I have this...
And in fourteen days I will have them removed. I just need to keep an eye on them to make sure that they don't get infected. Pink is okay, oozing it not.
But I will say, she was fairly calm yesterday because of the surgery. Not as much today though. Too much cage time in her opinion.